GAINESVILLE, Fla. -- Authorities in the Massachusetts murder case against former New England Patriots tight end Aaron Hernandez have reached out to police in Gainesville, Fla., in hopes of determining whether Hernandez had any role in a 2007 shooting that left two men wounded, a source with knowledge of the murder investigation told ABC News. One of the men was shot in the back of the head, according to a police report of the shooting obtained by ESPN's "Outside the Lines."
At the time of the 2007 shooting, Hernandez was a freshman on the University of Florida football team. Hernandez is being held without bail in Massachusetts after being charged June 26 with first-degree murder of 27-year-old Odin Lloyd and five weapons-related counts. Prosecutors called Lloyd's killing an execution-style shooting orchestrated by Hernandez because Lloyd talked to the wrong people at a nightclub. Authorities said Lloyd was shot three times at an industrial park as he twisted away in a futile attempt to avoid gunshots and then was shot two more times on each side of the chest.
The Gainesville Police Department on Wednesday initially issued a statement saying the report was not released publicly. It later changed that, saying that the report was released "inadvertently" after a public records request from ESPN that was "fulfilled in error by a clerk." The department said in a statement that the report was not complete because "there are still detective supplements outstanding because it is classified as an open criminal investigation."
The 2007 Gainesville shooting happened on Sept. 30, when Hernandez was a 17-year-old freshman with the Gators. The two men and a friend of theirs had left a nightclub and were in their car stopped at a light blocks away when their vehicle was fired upon, according to the statements two of the men gave to police. Corey Smith, a 28-year-old at the time who was sitting in the front passenger seat, was shot in back of the head. Justin Glass, the 19-year-old driver, was shot in the arm. Randall Cason, sitting in the back seat behind Smith, was unharmed.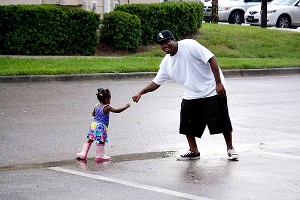 Stephanie HinesCorey Smith, seen here with his cousin, Chloe, still suffers from seizures since the 2007 shooting. His aunt says he was in a coma for two days after he was shot and had to relearn basic things such as speaking and writing.
While several witnesses told police the shooter was a black male, Cason said there were two suspects.
Cason, then 20, told police that shooter was a "Hawaiian" or "Hispanic" male who had a large, muscular build, stood about 6-foot-3 or 6-4, weighed about 230 or 240 pounds and had a lot of tattoos. Cason said there was also a black male with the shooter, and Cason identified the black male as Reggie Nelson, a former Florida Gator who was a rookie with the Jacksonville Jaguars. Nelson, in an interview with the Gainesville police, said he had been at the nightclub earlier but denied he was even on the same street as the shooting.
"As they were waiting for the light to change, the Hawaiian football player and Reggie Nelson walked up to their car on the right side," according to the police report, which cited what Cason told detectives. "Then without saying a work [sic], the Hawaiian pointed a small handgun in the front right window and fired five quick shots. Cason saw Smith slump over with blood coming out of the back of the head, at which time the Hawaiian and Nelson took off running towards McDonald's."
The police report says that Nelson and Hernandez had been in The Venue nightclub along with two other Gators players, Mike and Maurkice Pouncey, twin brothers who now both play in the NFL. After the shooting, investigators interviewed Cason at Shands Hospital. Cason was described as distraught and emotional, and an officer indicated Cason said several times "it should have been him that had been shot and not Cory [sic]." Cason told investigators that a week earlier his brother had gotten into an altercation with several Florida football players.
Nelson told investigators that he was at The Venue with several friends that night. He said he later saw Aaron Hernandez and the Pouncey twins, and Hernandez told him that one of the twins had his necklace snatched by Cason. After the club closed, Nelson said, one of the twins confirmed the story to him. Nelson said he went to speak to Cason, advised that he didn't want any trouble, and the two parted on good terms. He said he was not on West University Avenue, the street where the shooting took place, when Smith and Glass were shot.
Two days after the shooting, Gainesville police Lt. Keith Kameg was quoted in the Orlando Sentinel as saying neither Hernandez nor Nelson was a suspect. Police have also said that they briefly interviewed Hernandez about the shooting. But, according to the police report, Hernandez declined to speak to Gainesville police nine days after the shooting. Hernandez's name is redacted from the report because he was 17 and considered a minor at the time. However, there is one reference to Hernandez in which his name is not redacted. In that section under "Aaron Hernandez," the report says detectives attempted to speak to Hernandez on Oct. 9 but that "he invoked his right to counsel."
That same day Cason, who had originally said Nelson and the Hawaiian or Hispanic male were the suspects, "rescinded his identification of Aaron Hernandez and Reggie Nelson," according to the report. While Hernandez's name was redacted in the document, it was the first time the report indicated that Cason had positively identified Hernandez as the shooter at some point.
"Outside the Lines" left messages for Cason, Glass and now retired Gainesville detective Patty Nixon, but they were not returned.
Smith said he suffers from seizures as a result of the shooting. "God is good," he said. "I'm here for a reason. I just want to know what happened and who did it so I can go forward with my life."
Associate producer Simon Baumgart contributed to this story.