Kyle Williams said he was "shocked" that the New York Giants were not disciplined for comments made by a couple of their players that the San Francisco 49ers receiver was targeted in last year's NFC Championship Game because of his history of concussions.
It was during the Giants' 20-17 overtime victory in San Francisco last season that Williams fumbled two punt returns, including one in overtime that led to Lawrence Tynes' game-winning field goal.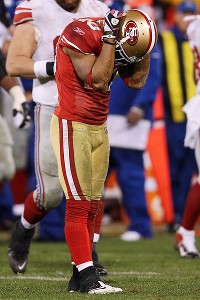 Ezra Shaw/Getty ImagesKyle Williams, seen here after fumbling in overtime of last season's NFC title game, said Wednesday he's "shocked" the Giants weren't punished after two players said he was targeted due to his concussion history.
After that game, Jacquian Williams and Devin Thomas both admitted that the special teams were well aware of Williams' concussion history.
"The thing is, we knew he had four concussions, so that was our biggest thing, to take him out of the game," Jacquian Williams said after the win.
After the Saints bounty scandal exploded, Kyle Williams figured the Giants might be disciplined as well.
"When the bounty stuff came out and [former Saints defensive coordinator] Gregg Williams had said the same things, basically, they went for his neck with that and they took that to the absolute highest level they could," Kyle Williams told reporters Wednesday in New Orleans. "But it was almost like when the Giants said it, it was not a big deal.
"That's the only thing that kind of shocked me. I thought that would have the same reaction because it was the same exact thing."
The Giants said they never went after Kyle Williams' head. His first fumble came after a punt bounced off his leg and Thomas recovered. And the second turnover came when Jacquian Williams poked the ball out from the side, leading to another Thomas recovery.
Even though Kyle Williams wasn't hit in the head on those two fumbles, he said the Giants did hit him in the head during the game. But he wouldn't go as far as to say that the Giants were purposely aiming for his head.
"They got me," Kyle Williams said. "They definitely got me."
The Niners' punt returner is currently on injured reserve but is with the team at the Super Bowl. He said he is not bitter or upset with the Giants.
"Guys try to put guys out of the game every single game," he said.
Gregg Williams was heard on an audiotape that was part of the NFL's investigation into the Saints bounty scandal directing his players to target Kyle Williams before a Saints game against the Niners.
"We need to find out in the first two series of the game (about) that little wide receiver, No. 10 (Williams), about his concussion," the former Saints defensive coordinator said on the tape. "We need to f------ put a lick on him right now. He needs to decide. He needs to f------ decide."
That's why Kyle Williams thought the Giants might be disciplined after hearing what Jacquian Williams said and how Thomas also said, "He's had a lot of concussions. We were just like, 'We've got to put a hit on that guy.'"
"The only thing that was crazy to me was that nothing came of it," the Niners returner said. "That was the only thing. Because I fully expected it to because of what just had happened with the Saints. When that came out I was like, 'Oh, OK there'll be the same type of thing.' But there was nothing.
"I don't know if that was because (the Giants) won (the Super Bowl), or if it just wasn't a big deal. But I just thought it would be exactly the same type of thing."