If I were to offer you $50 million to run your football team, would you be interested?
Assuming you said yes (and you did), let me fill you in on the details of said offer. In Gridiron Challenge, you are afforded the aforementioned budget and tasked with building a roster that includes two -- count 'em, two -- quarterbacks, a pair of wideouts, a pair of tailbacks, one tight end, a team defense and a kicker.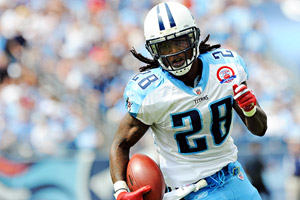 Jim Brown/US Presswire

With an improved offensive line, Chris Johnson will look to better his stellar 2009 numbers in 2010.
Unlike in traditional fantasy football, where you are limited to the roster that you assemble via drafting, trading and waiver transactions, in the GIC you can have any player you'd like as long as you stay within the budget. Think of it as a stock market for NFL talent. Each player has a specific price tag to start the season that can fluctuate from week to week based on performance and demand for his services.
In the end, this game shares the core ideology of fantasy football: Score the most points. Each week your team's output is added to your running total of points for the season as your team is ranked in any of the groups in which you compete, and your total is also considered among the entire collective of competitors (recognized by a percentile ranking). ESPN's Bill Simmons, for example, hosts a group for his podcast listeners each season, as does the Fantasy Focus Football crew, among many others.
Incentive to build a productive roster endures throughout the season because you can change your team with just a few clicks. In many ways, Gridiron Challenge is a great complement to traditional fantasy leagues, because there's always a chance to make up ground and reinvent your roster no matter how late it is in the season. In a head-to-head league, an unlucky 1-6 start is often condemning. Basically, this game removes some of the sting from the 90 percent failure rate in fantasy football that Simmons cleverly noted.
Now that you get the premise, let's discuss some of the intricacies and strategies of the game. Here, in no specific order, are the somewhat flexible investment beliefs that I've developed in my years as a Gridiron Challenge broker:
• As the season wears on, peruse your team's results from each week and try to deduce where and possibly why you've lacked consistent production. This may sound like vague and simple advice, but it is rare for managers to reflect on their team's previous performance in Gridiron Challenge because they focus so much on the current week and marketplace for players. Take a little time and see where you've left points on the table. I found that last season, for example, I tended to get too cute with what I saw as undervalued quarterbacks and suffered statistically for it. This bears some influence on my tendencies going forward. The continuous present-day nature of this game can lend itself to not having much perspective on how you've managed your "portfolio."
• The Rule of 13: I have a loose budget for what I consider the three least predictable and somewhat undeserving investment positions on the market: For tight end, kicker and defense, I try to stay below $13 million for a given week. In the end, this is truly just the supercheap kicker strategy, as I've consistently spent around or less than $3 million for my kicker each week.
By adhering to this buying strategy, you have just more than $6 million to spend on each of the other six roster spots. There are often regularly available values at tight end and, in particular, team defenses. When it comes to kickers, I often acquire one of the cheapest options and select the leg that I feel will be busiest that week. With the coin you don't spend on a more recognizable kicker, you can go gourmet at the more rewarding skill positions. There are times, of course, when you'll have a little cap space to spend for an elite tight end or defense, but I think you'll find you can excel by going frugal at these positions in most weeks.
• I endorse the scheme of coupling an elite, big-name talent with savvy upside buys at particular positions. Rostering a coveted commodity at a significant price often is possible only when you find some good buys elsewhere. I'm of the ilk that would rather pair a relatively inexpensive but promising halfback like Jahvid Best or Justin Forsett with a proven elite like Chris Johnson or Maurice Jones-Drew than to roster two productive but somewhat middle-of-the-road talents for the same cost. This strategy applies to other positions as well, but I've found that it's most effective for backfield and receiving investments, as there's a lag on some of the cheaper options given the larger player pools at these positions.
• The cool thing is that if you invest in a surging player in, say, Week 2 and retain his services for a few weeks, his price remains fixed for you, but those late to the gem you found must pay the inflated cost. The margins you can enjoy are elemental to success in this game as you aim to maximize the electronic cash you are doling out for players. At the same time, don't allow the presence of a dividend on an investment keep you from building what you believe is the best team each week. Saving money is great, but scoring points is better.
• An interesting element in the scoring key is that you net five points if your team defense's team wins its actual NFL game that week. This is the rare case in fantasy football where the outcome of the actual game is afforded a measurable reward. This means you can potentially find value in some cheaper defenses if you feel that the team will win its matchup that weekend. This is a uniquely big bonus (comparable with the reward for a touchdown) that you should pursue on a weekly basis.
So, I wish you good luck and think you'll enjoy that this gig asks that you blend equal parts fantasy manager and savvy investor as you seek to ascend in the rankings. Check in each week, and we'll provide you with some notable names to look out for as we seek to determine just how to best navigate the market.
Jim McCormick is an IDP and fantasy football analyst for ESPN.com as well as the editor and publisher of BLITZ Magazine, a print and online publication covering football from prep to pro.