Sunday Countdown: Your weekly NFL guide
Weekly Picks

Ditka
Johnson
Carter
Jackson
Philadelphia @ Seattle
Seattle
Seattle
Seattle
Seattle
Carolina @ Tampa Bay
Tampa Bay
Carolina
Carolina
Carolina
Cincinnati @ Pittsburgh
Pittsburgh
Pittsburgh
Pittsburgh
Pittsburgh
Atlanta @ Houston
Atlanta
Atlanta
Houston
Atlanta
N.Y. Jets @ Washington
N.Y. Jets
N.Y. Jets
N.Y. Jets
N.Y. Jets
Indianapolis @ New England
New England
New England
New England
New England
Oakland @ Miami
Miami
Oakland
Oakland
Oakland
Denver @ Minnesota
Denver
Denver
Denver
Denver
Tennessee @ Buffalo
Tennessee
Tennessee
Tennessee
Buffalo
Kansas City @ Chicago
Chicago
Chicago
Chicago
Chicago
Baltimore @ Cleveland
Baltimore
Baltimore
Baltimore
Baltimore
Dallas @ Arizona
Dallas
Dallas
Dallas
Dallas
Green Bay @ N.Y. Giants
Green Bay
New York
Green Bay
Green Bay
St. Louis @ San Francisco
San Francisco
San Francisco
San Francisco
San Francisco
Detroit @ New Orleans
New Orleans
New Orleans
New Orleans
New Orleans
San Diego @ Jacksonville
San Diego
San Diego
San Diego
Jacksonville
Week 13 Record
12-4
11-5
13-3
10-6
Overall Record
129-63
127-65
134-58
132-60
More picks: Experts | SportsNation: Pick Week 13
Countdown Confidential
By Bob Holtzman and Colleen Dominguez
Will weather affect Packers? What stands between the undefeated Green Bay Packers and a return trip to the Super Bowl is seven games. All of them will likely be outdoors in cold-weather cities.
"The ball hurts," wide receiver
Greg Jennings
said about catching passes from strong-armed quarterback
Aaron Rodgers
in the cold. Tight end
Jermichael Finley
was more descriptive. "It's like a knife just cutting you," Finley explained. "It stings like a mother. You just have to suck it up and catch the ball."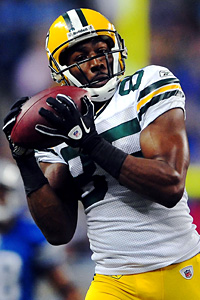 Andrew Weber/US PresswireEven when the weather gets nasty, Greg Jennings expects to catch plenty of passes.
So far the Packers have played three games in domes and haven't dealt with anything more than some rain in San Diego. That will almost certainly soon change with December games in New York and Kansas City and as many as five games in December and January at Lambeau Field. "Obviously we're going to have to start to rely on the run a little bit more," said Jennings, who leads the Packers with 58 catches and 835 receiving yards. "But at the same time, in the same breath, passing the ball is what we do." In last year's playoffs the Packers ran the ball the majority of the time in outdoor, cold-weather wins in Philadelphia and Chicago. Green Bay threw it the bulk of the time in indoor wins in Atlanta and the Super Bowl in Dallas. That may be the blueprint again this year as the weather turns colder, but it certainly doesn't sound like it. "[The weather] won't change the way we play," coach Mike McCarthy said "You look at some of the cold-weather games that we've played in, we still went with four wideouts, five wideouts and still just ran our offense. Our quarterback is very gifted with the ability to throw the ball in bad weather." The Packers should get a break this weekend. Sunday's forecast at MetLife Stadium calls for temperatures in the 50s.
-- Bob Holtzman
---
Tebow gaining confidence: Broncos quarterback Tim Tebow admits his confidence is growing every day. When asked if he smiles when he sits back and thinks about the past several weeks, Tebow said, "I continually try to smile a lot." And why shouldn't he?
Riding a four-game win streak, Tebow said earlier this week leadership is something that has to be earned, and in talking to his teammates you get the clear sense he's accomplished that. Defensive end Elvis Dumervil told me, "Tebow's our guy, man, he's the team quarterback, we believe in him we, we rally around him."
That's high praise from a member of a defense that some say has been overshadowed by all of the attention surrounding Tebow. Veteran cornerback Champ Bailey said good-naturedly, "When you have No. 15 at quarterback, it's kind of hard to get any attention from him. He's the magnet for it."
Bailey added, "We're not asking for it, we can be unsung heroes all year if we have to be."
The Broncos' defense isn't exactly going unnoticed, though. In the past four games, it has given up an average of only 15 points. Combine that with rookie Von Miller and a now-healthy Dumervil posting 10 sacks between them in those four games, and it's hard not to be aware of what the defense has been doing.
The Broncos are hoping Miller, who had surgery on his right thumb earlier this week, will be able to go Sunday against the Vikings. The chemistry between Miller and Dumervil is evident.
Dumervil put it simply when he said, "We both have the same love for hitting quarterbacks." They're a 1-2 punch that gives Tebow and his teammates yet another reason to smile these days.
-- Colleen Dominguez
MVP Watch
Great efforts to more fully appreciate quarterback contributions should, in theory, reward Tim Tebow for leading the Denver Broncos to repeat victories despite weak passing stats. The opposite has been true. Tebow ranks 31st out of 35 qualifying players in Total QBR, the ESPN stat measuring how quarterbacks affect win probability across a wide array of categories. Brian Burke of Advanced NFL Stats, a founding father of such metrics, recently tried hard to find additional ways to appreciate Tebow's contributions, but it was an uphill fight.
1. Aaron Rodgers, QB, Green Bay Packers
Another week, another NFL passer rating above 110. Rodgers actually ranks behind
Drew Brees
and
Tom Brady
in expected points added through the passing game, but he outpaces both in contributions through rushing and opponent penalties. It's news whenever Rodgers throws an interception. He has one in his last five games. Rodgers plays his final five games outdoors in cold-weather cities, but he can produce across all climates, it appears.
2. Drew Brees, QB, New Orleans Saints
What a spectacular performance against the New York Giants. The sensational passing has been there all season. The juke Brees used to free himself for that scrambling touchdown offset any style points lost through Brees' comical attempt at dunking the ball over the crossbar during his vertically challenged celebration. Brees is warming up and still has four indoor games remaining.
Complete story | SN: Ranker
Fantasy Corner
Week 13 rankings
Forte
Matt Forte:
The Chiefs have surrendered 509 rushing yards the past three weeks combined, with their 169.7 per game average being second-worst, and remember, the Bears have an erratic quarterback making only his second start of 2011. They'll put it all on Forte to get things done.
DeMarco Murray:
Four straight weeks of 20-plus carries and it's clear that Murray is more than capable of handling the workhorse role in this offense, which has been operating at a much higher level since Murray stepped in. A few extra days of rest should have him raring to run all over the Cardinals.
Complete Week 13 rankings
Watch 'Sunday Countdown'
Sunday, 10 a.m. to 1 p.m. ET, ESPN
• "Playoffs? Don't talk about Playoffs. Are you kidding me? Playoffs?" Ten years after this truly honest moment following a loss to the 49ers, the words of Jim Mora Sr. still resonate today. Greg Garber joins the Indianapolis media members present that day to revisit the moment.
• Haloti Ngata is one of the most feared defensive lineman in the NFL. He was so coveted coming out of Oregon, Ravens linebacker Ray Lewis went into GM Ozzie Newsome's office to lobby for Baltimore to draft the 300-pounder. As Rachel Nichols reports, Ngata has endured two tragedies that no 27-year-old should face.
• After scoring a touchdown in Week 12 against the Jets, Stevie Johnson's touchdown celebration mocking Plaxico Burress' shooting incident earned him a $10,000 fine. His drop late in the game eventually cost Buffalo the win. Cris Carter has the story of the talented but controversial receiver.
• Over the course of the 2011 season, Titans rookie QB Jake Locker has had the chance to learn the ropes from veteran quarterback Matt Hasselbeck, an opportunity he treasures greatly. This week, Kenny Mayne catches up with Matt and Jake to talk about their unique bond and some of Matt's unorthodox teaching methods ... in the Mayne Event.
• Follow all the happenings on "Sunday NFL Countdown" on Twitter
here
.
Chat Wrap with Matt Williamson
Sanchez
• Anthony (Queens, N.Y.): Mark Sanchez's throws are so inaccurate, either way overthrown, behind or in front of the receiver. These completely way-off throws seem like technique, which brings up the question, what is Matt Cavanaugh (QB coach) doing?
• Williamson: I hear ya. But in some ways, I think this coaching staff has done a fantastic job with Sanchez in that it has consistently won games -- with poor QB play -- by masking the play at the game's most important position.
Complete chat transcript
NFL Countdown On Facebook
NFL Coverage On Twitter

Looking for up-to-the-minute news and insight? Follow our team of writers and analysts on Twitter.
NFL on Twitter