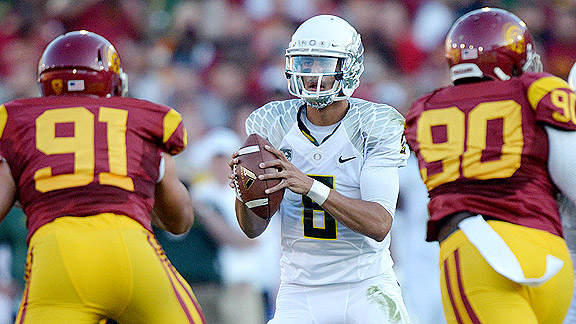 Kirby Lee/Image of Sport/US PresswireThe Ducks have been dominant, but the finishing stretch is their toughest test.
Every program in college football strives for perfection, but perfection is elusive. The SEC has claimed each of the past six national championships, but three of those teams lost at least once during the regular season. Even the undefeated BCS champions over the past decade struggled at some point along the way. The best teams are vulnerable because it is difficult to have peak performance at all times, week in and week out.
Alabama lost at home to Texas A&M over the weekend, the most recent reminder that the best teams don't always play their best every week. The Aggies found a seam in Alabama's elite defense, exploited it early in the game and hung on to win with the help of a goal-line stand.
The loss kicked open the door to the championship a bit wider for other contenders, and three undefeated teams are in position to take advantage. Kansas State, Oregon and Notre Dame -- Nos. 1, 2 and 3 in the BCS standings, respectively -- are each capable of winning a national championship this year, but each has its own weaknesses that could trip a team up at some point in the next few weeks. Here's a look, in order of their current BCS standing:
---

Likelihood of winning out: 82.1 percent
Vulnerability: Moving the ball for first downs