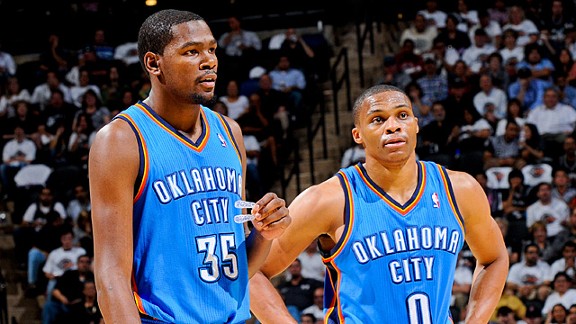 D. Clarke Evans/NBAE via Getty Images Will both Kevin Durant and Russell Westbrook have Hall of Fame-worthy careers?
In the Dec. 24 Hall of Fame issue of ESPN The Magazine, we tore down the Basketball Hall of Fame, erecting in its place a brand-new, analytically driven Hall designed just for the NBA. And after the dust cleared, 80 players claimed their place in the ranks of the immortal, including 17 active players.
The youngest of those names to have already made the leap are Chris Paul and Dwight Howard, both of whom are only 27 this season, so you know it's not too early to look for future enshrinees. But who among the under-25 set has the best probability of joining Paul and Howard in The Mag's NBA Hall?