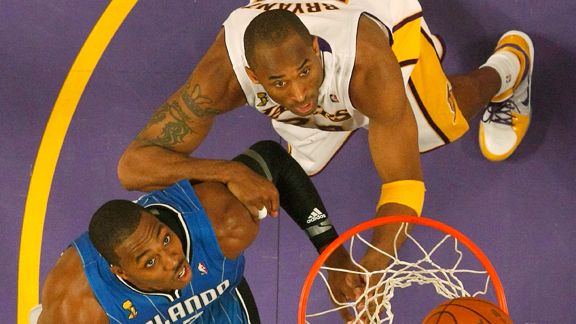 Jed Jacobsohn/Getty ImagesThings are looking up for new teammates Dwight Howard and Kobe Bryant. But how high?
We've been placed on Dwight Howard watch so many times over the past nine months that it seemed inevitable that when a deal finally went down, there would be a seismic shift in the NBA. Now that Howard has reportedly been moved in a four-team megatrade, it's kind of surprising to consider that the top of the league doesn't look that much different than it did at this time yesterday.
Don't tell that to Los Angeles Lakers fans, who were pounding their chests in unison last night in various social media formats. When the NBA's marquee franchise nabs the league's pre-eminent big man, who can blame them for their collective hubris? Nevertheless, on paper, the Lakers' roster is still chock-full of concerns.