On Monday, we unveiled our projected Eastern Conference standings for 2014-15. Today, our Summer Forecast takes a look at how the Western Conference stacks up after a busy offseason. Will the defending champion Spurs finish with the West's best record again?
OUR NEW PREDICTION ENGINE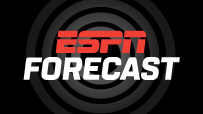 These Summer Forecast predictions are powered by ESPN Forecast.
For our results, we surveyed our ESPN Forecast panel. We'll announce one team every half-hour (from 1 to 15), starting at noon ET.
To participate in the discussion and perhaps get your opinion published on this page, #ESPNForecast is the Twitter hashtag to use. Or you can just follow along @ESPNNBA.
During the next two weeks, we'll also roll out our predictions for the 2013-14 rookie of the year, best newcomer, worst newcomer, MVP, conference champions and NBA champion. In addition, we'll examine which teams will make the biggest turnarounds this season and which teams could be in for the most turmoil.
Without further ado, here's how the West will shake out in the regular season:
Projected 2014-15 Western Conference standings
RANK
TEAM
W
L
PCT
'14 W
'14 L
'14 PCT



1



Oklahoma City Thunder
58
24
.707
59
23
.720
@godmonusa: Good choice because the Spurs would not have been in the Finals if Ibaka did not miss the first two games.

@kylekmac: Come on. I'm an OKC fan and there's no way they can be above the Spurs.





2



San Antonio Spurs
57
25
.695
62
20
.756
@mAhm3d90: #Spurs go 62-20 in an injury-plagued season, dismantle the Heat in 5, bring back EVERYONE and are yet again, underrated. I love it.

@mikewu43: Only way I see Spurs only winning 57 games next season is a lot of injuries. I'll take the over. This is easily a 60 win team.





3



Los Angeles Clippers
56
26
.683
57
25
.695
@TheNextBlGThing: Won't happen. Lost depth. Got a bad pickup to backup/
side with CP3 in Farmar to replace DC. If CP3 goes down, Clips will slide.

@RilwanAmeen: Still feels like the #Clippers are one piece away from overcoming the Thunder and Spurs to get to the NBA Finals.





4



Portland Trail Blazers
51
31
.622
54
28
.659
@Matthew_Haddock: Heck no. This team is completely overrated.

@CameronVaughan1: Definitely more than 51 wins, this is the West, and they're gonna beat up on the East.





5



Dallas Mavericks
50
32
.610
49
33
.598
@dumbonmars: Mavs at 5? They should be in the top 4 if not 3. And with all this improvement, they definitely won't win only one more game.

@Los512: Not sure they will win 50 unless Parsons has an All-Star season and becomes the No. 2 option behind Ellis.





6



Memphis Grizzlies*
49
33
.598
50
32
.610
@BrandonSimberg: Grizzlies won 50 games last year without Gasol for a long stretch. They should win at least 50 this year, maybe more.

@Committeemanken: The @memgrizz made big improvements with the pickups of Jarnell Stokes and Vince Carter. No way they're a 49-win team.





7



Golden State Warriors*
49
33
.598
51
31
.622
@samarcusdzija: The Dubs behind the Grizzlies and Mavs? With a revamped bench and a healthy Bogut I see the W's battling for a 4/5 seed.

@27cohen30joey12: The Warriors had more talent than their 6-seed placement last year. Improved bench and Curry getting better? 3-4 seed.





8



Houston Rockets*
49
33
.598
54
28
.659
@ah1144: So the same seed as they were Harden's first year in Houston and no Howard, right? Joke.

@SleepyJordan: No chance Houston wins 49 games. They lost Parsons, Lin, and Asik. Very little talent outside of Howard and Harden.





9



Phoenix Suns
45
37
.549
48
34
.585
@SunsNationPL: Phoenix Suns and 9th seed are like Romeo and Juliet, inseparable. Hope the curse fades this season.

@ApexSteele: They're playoff bound for sure, at least second round.





10



New Orleans Pelicans
39
43
.476
34
48
.415
@Tommydiculous: Wait what? So Portland is 10 games better than my Pelicans? We got the third-best player in the league. #48Wins

@LtKumar23: Pelicans could have won five more games last year. It's not like our best six players missed over 200 games combined or anything.





11



Denver Nuggets
38
44
.463
36
46
.439
@JuMuJazz: Looks like getting Gallinari, Hickson, McGee, Nate back from injuries isn't enough?! Nuggets were 3rd seed a year ago.

@kengyank: A healthy Nuggets team is a sleeper playoff pick.





12



Los Angeles Lakers
30
52
.366
27
55
.329
@glanvillain: #ESPNForecast somehow thinks there could be 3 teams worse than the Lakers in the Western Conference. They are wrong.

@m_shantz: It's a sad state of affairs for franchise when it feels like everything needs to go right for #Lakers to finish 12th in West.





13



Sacramento Kings
29
53
.354
28
54
.341
@DoctorSheuss: The West is deep but the Kings are a borderline 40 win team for sure, people will be surprised.

@cliffmartinez16: At the moment, Sacramento is a 30+ win team. Kings are more improved entering this season than last year. Still need solid PF.





14



Utah Jazz*
26
56
.317
25
57
.305
@Slim_Smoochy: I'd hope for higher, but the Jazz ranking is probably spot on. Hopefully Dante progresses quickly!

@jim_neeway: One more year experience for young core, top 5 pick, & new coach with system that seems to fit personnel nets 0 wins 4 #UtahJazz.





15



Minn. Timberwolves*
26
56
.317
40
42
.488
@Dr34mShake: The Wolves probably should be the worst team in the West, but I doubt Flip is going to let things take their natural course.

@TheTWolvesFan: Wolves are a young team but young core of Wiggins, LaVine, Rubio, Dieng & Robinson III will be VERY good in 2-3 years.


* Teams tied in win total are ordered by decimal rankings from our experts' predictions.