Welcome to another edition of Five Astounding Facts, which includes a bonus no-hitter section.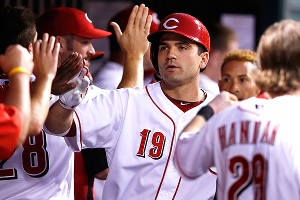 Joe Robbins/Getty ImagesWith 52 walks in 63 games, Votto has a major league-best .484 on-base percentage.
1 The human Astounding Fact, Joey Votto, went into the weekend on a pace for 201 hits and an incredible 136 walks. If he can keep that up, he'll be in ridiculously rarified territory -- because only one player in history has ever drawn that many walks in a 200-hit season. And I'm betting you've heard of him:
Babe Ruth, 1923: 170 walks, 205 hits
Babe Ruth, 1921: 145 walks, 204 hits
Babe Ruth, 1924: 142 walks, 200 hits
1A But suppose Votto slides to "only" 120 walks. Still almost equally amazing. Just one other player since 1900, besides the Bambino, walked that many times in a 200-hit season. And that was Ruth's tag-team partner, Lou Gehrig (130 in 1936, then 127 the next year). And that's it. The only NL players since 1900 who ever topped 105 walks in a 200-hit season: Todd Helton (111 in 2003) and Stan Musial (107 in 1949). Un-be-friggin'-lievable.
2The Blue Jays did something last Sunday that's nearly impossible -- especially for an American League team: Thanks to the miracle of interleague play, they had four different players get a hit out of the No. 9 hole in the same nine-inning game. And, incredibly, the starting pitcher, Ricky Romero, got none of them despite pitching four innings.
After Romero exited, three pinch-hitters -- Yan Gomes, Omar Vizquel and Mike McCoy -- got a hit. And so did reliever Carlos Villanueva. So what was the last team to have four No. 9 hitters get a hit in the same nine-inning game without the starting pitcher joining the fun? How about the 2002 Expos. But what was the last AL team to do it in a nine-inning game? Would you believe it was Bob Feller's 1950 Indians? On June 2, Feller got knocked out in the first inning, after which three pinch-hitters and reliever Al Benton all got hits. Wild, huh?
3
After serving up a gopherball in his first 12 starts of the season, Phil Hughes finally stopped that astonishing streak Friday night. It was still tied for the second-longest streak of all time (behind Bert Blyleven's 17 in a row to start the 1987 season). But here's how hard it is to give up a homer 12 starts in a row at ANY point in a season:
In 2000, on the way to the only 48-gopherball season in National League history, Jose Lima never allowed a home run in more than seven starts in a row. And the man who has given up more home runs than any pitcher in history -- Jamie Moyer -- is up to 522 career gopherballs without ever allowing a homer in more than 10 appearances in a row.
4 Cubs rookie Adrian Cardenas went into the weekend with five career hits -- all doubles. Which inspired loyal reader Rick Perlini to wonder: Has anyone ever kicked off a career with five consecutive doubles? Well, yes, as a matter of fact. Carlos Gonzalez's first SEVEN hits were doubles, back in 2008, according to the Elias Sports Bureau. But Gonzalez is the only other player since 1950 to roar out of the gates with a double streak this long. And no Cub had started his career with five straight extra-base hits of any sort since Frank Ernaga (2 homers, 2 triples and a double) in 1957. We regret to report that Ernaga got just two more extra-base hits the rest of his career.
5 And since it's impossible to get through one of these Five Astonishing Facts collections without an Adam Dunn nugget, how about this one: If the Big Donkey keeps whomping along at his current clip, he'd finish the season with 51 homers -- and a .227 batting average. He'd also blow away the records for lowest average by a 50-homer man (.260, by Jose Bautista) AND by a 40-homer man. So who holds that 40-homer record? Adam Dunn. Who else? He hit .234 in 2006, while bopping his standard 40 home runs on the nose.
Bonus no-hit section
We've seen two no-hitters -- Matt Cain's perfecto and the Mariners' six-pitcher no-hit extravaganza -- since the last edition of Five Astounding Facts. So here come a bunch of Astounding No-Hitter Facts:
Blanco
1 If you haven't seen Gregor Blanco's outrageous catch Wednesday to preserve Cain's perfecto, you need to visit our Web Gems section right now! But here's the really astounding addendum to that catch: No right fielder has caught a ball hit that hard to that part of ANY park during the last three seasons. Here's the breakdown, from Baseball Info Solutions:
There have been 32 fly balls hit -- anywhere in baseball -- since 2010, with that approximate hang time, to that approximate location on the field. Blanco was the first right fielder to catch any of them. And of the 13 balls hit in San Francisco to within 25 feet of that spot with that approximate hang time, five turned into triples, five more were doubles and only two were caught -- both by the center fielder. Holy schmoly.
2 But one reason there weren't a bunch of other great defensive plays in that game was ... Matt Cain practically let his defense take the night off. In fact, he was just the sixth pitcher in modern history to throw a no-hitter in which he piled up more strikeouts (14) than balls put in play (13). Nolan Ryan did that four times. Sandy Koufax did it twice. The only other pitchers since 1900 to do it:
Warren Spahn, Sept. 16, 1960 (15-12)
Don Wilson, June 18, 1967 (15-12)
3 Another cool Matt Cain claim to fame: If you'll recall, he pitched a game earlier this year (April 13) in which the only man to reach base was the opposing pitcher, the Pirates' James McDonald. And that, says loyal reader/researcher Trent McCotter, makes Cain only the second pitcher ever to throw a perfect game and a "nearly perfect game" (just one baserunner) in the same year. The other: Roy Halladay in 2010 (regular-season perfecto, one-walk postseason no-hitter).
Happ
4 Meanwhile, the opposing starter, the Astros' J.A. Happ, also made no-hit history. How? By giving up 11 hits and eight earned runs, while the guy he was pitching against was giving up zero hits and zero baserunners. The only other starter since 1900 to oppose a no-hit pitcher and allow that many hits and runs was Mike Caldwell (13 hits, 8 runs) on Sept. 2, 1972, while the Cubs' Milt Pappas was no-hitting the Padres. But two of the runs off Caldwell were unearned. So Happ is the first to give up that many hits and EARNED runs while his team was getting no-hit.
5 Out in Seattle, Stephen Pryor carved a bizarre place in no-hitter history himself. He was the winning pitcher in the Mariners' six-pitcher no-hit blockbuster even though he managed to allow more hitters (two) to reach base than he got outs (one). He struck out Juan Rivera for the final out of the seventh inning, then walked the first two hitters he faced in the eighth, and off he went. But since the Mariners scored in between the whiff and the two walks, presto -- Pryor became the winning pitcher.
That means he will go down as the first pitcher ever to get a win in a no-hitter while racking up only one of the 27 outs. He also set a record for fewest batters faced by a winning pitcher in a no-hitter (three). The old record-holder was Ricardo Rincon, of "Moneyball" fame, with four, in relief of Francisco Cordero in a 10-inning no-hitter by the Pirates on July 12, 1997.
6 In the EIGHTH inning of the Mariners' no-hitter, with the Dodgers six outs away from getting no-hit, L.A. manager Don Mattingly did something no manager had done in decades: He had James Loney lay down a sacrifice bunt -- during a no-hitter. So how rare is that? Glad you asked.
According to baseball-reference.com's awesome Play Index, it made the Dodgers the first team to drop a sac bunt at any point in a no-hitter in more than 20 years -- since Padres pitcher Greg Harris bunted in the third inning of a Braves combined no-hitter on Sept. 11, 1991. But ...
The last team to bunt that late in a no-hitter? The '91 Expos, who tried bunting Delino DeShields, also with six outs to go, in a Kevin Gross no-hitter on May 23, 1991. That didn't work out so hot, either.
We found only two other sac bunts, in the live-ball era, in the eighth inning or later of a no-hitter. They were laid down by the '65 Cubs against Jim Maloney (in a 0-0 game, at least) and by the '46 Yankees against Bob Feller (in the NINTH inning, down 1-0).
7 Finally, here's to Brian Runge and Ted Barrett. They've just become the first umpires to work three different no-hitters in the same year since 1968. They worked Phil Humber's perfect game on April 21, the six-pitcher no-no in Seattle and Cain's perfecto Wednesday. Back in '68, an entire National League crew (Harry Wendelstedt, Bill Jackowski, Frank Secory and Ken Burkhart) umpired no-hitters by George Culver, Gaylord Perry and Ray Washburn.
Like Wendelstedt, Runge worked the plate in two of those no-hitters. But Runge has an even cooler spot in no-hit umpiring annals. He became just the third man to call balls and strikes in both a no-hitter and a perfect game in the same season. The others, according to Retrosheet: George (Foghorn) Bradley (in 1880) and Tommy Connolly (in 1908). Very cool.