SAN FRANCISCO -- Two decades into this ride, Phil Mickelson admits the journey now has its mundane moments. He turned pro 20 years ago at the U.S. Open and last month went into the Hall of Fame, so perhaps it is understandable that not every day is met with the same enthusiasm.
That won't be the case Thursday morning at Olympic Club.
Mickelson, who turns 42 on Saturday, has plenty of incentive at the 112th U.S. Open. He's been runner-up in this major championship a record five times. It is a tournament he'd dearly love to win.
If that's not enough, Mickelson is grouped with Tiger Woods and Masters champion Bubba Watson for the first two rounds. And even at the dew-sweeping time of 7:33 a.m. PT, Lefty leaves no doubt as to his feelings about such a star-studded group.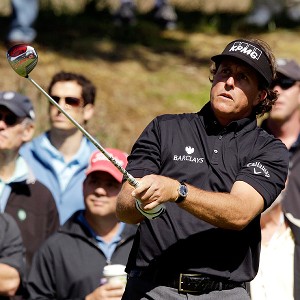 AP Photo/Charlie RiedelPhil Mickelson owns a dubious record of five second-place finishes in the U.S. Open during his Hall of Fame career.
"It's fabulous," he said Tuesday after a practice round. "I'll tell you why. First of all, I get excited to play with Tiger, I love it. I think we all do. He gets the best out of me. When it's time to tee off on Thursday, I'll be ready to play.
"One of the issues I've had this year [is] I've been a little mentally lethargic on Thursday and Friday. I won't be this week."
There is no doubt that Tiger brings out the best in Phil. The overall record doesn't say so, but that has been the recent trend. Their rivalry dates to the 1997 PGA Championship, when they played together in competition for the first time and both shot final-round 75s.
It was hardly memorable, but over the years their duels have been entertaining, even if the outcome of a tournament was not always at stake.
That was not the case in February at Pebble Beach, where they played in the same group for the 30th time. Both were in contention, but while Tiger struggled to a 75, Phil shot a tournament-best 64 to win for the 40th time in his PGA Tour career.
They are tied in their head-to-head matchups 13-13-4, which is nothing more than an interesting side note in their careers. Still, it is telling that Mickelson has gone lower in seven of their past 10 rounds together.
Woods is far more stoic when the subject comes up. He is used to a circuslike atmosphere at every tournament he plays, so having Phil and Bubba along for the first two rounds at Olympic won't change much. He doesn't remember the first time they played together and points out that their duels are rare.
"It's different for us to ever be paired up in the same group," Woods said. "That never happens. We [the PGA Tour] try to spread it around a little bit. That's why 2008 was so different for us. Because on the tour we never get that pairing. For us to get that pairing was exciting I think for everyone, and I think this year will be the same."
Woods was referring to the '08 U.S. Open at Torrey Pines, where the United States Golf Association decided to group several players based on their world rankings. Woods was No. 1, Mickelson No. 2 and Adam Scott No. 3, and they played together during the first two rounds.