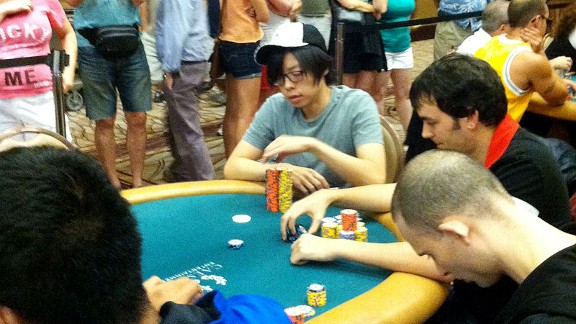 Andrew FeldmanJoseph Cheong is making a run in the WSOP main event for the third straight year.
LAS VEGAS -- There will be a new main event champion in 2012. Pius Heinz was eliminated during early action on Day 3, moving all-in preflop with 6-6 and running into the A-A of Gioang Nguyen. Heinz exited the Amazon Room in the same way he entered it, with little fanfare or commotion. Typically defending main event champions are privy to an announcement or a round of applause from the remaining contenders, but Heinz never received his well-earned ovation. Heinz's elimination was similar to that of any amateur playing the main event for the very first time.
As we look back on Heinz's tenure as champion, we can say only that it was lackluster if you're a poker fan in the United States. Heinz never wanted to put himself in front of the cameras. There was no media push from PokerStars before the main event and there was no effort to increase his exposure on the media side either. In a post-Black Friday world, Heinz didn't have the opportunity to be part of any of the televised poker shows because most of them are no longer in existence. In Europe, Heinz had greater popularity and was an icon on the German poker scene, but unlike his predecessor, Jonathan Duhamel, his stardom didn't extend beyond his country's border.
On the felt, Heinz cashed four times since his victory, with his best finish coming at the 2012 PokerStars Caribbean Adventure $5,000 event where he finished fifth. He also cashed twice at the 2012 WSOP (43rd place in Event 46, 236th in Event 43).
There's little doubt that Heinz is a tremendous poker player and we'll see him at final tables in the future, but as of now, when we look back at his legacy and compare him with other main event champions, he appears to fall into the Joe Cada and Peter Eastgate category much more than the one that includes Duhamel. Congratulations on a Day 3 run, Pius, we'll see you next year.
Heinz wasn't the only main event champion to fall during Level 11. Eastgate essentially followed Heinz out the door, all-in and looking for one of his many outs with Ah-6h on a 5h-3c-2h board against the 10-10 of Nghi Van Tran. The turn and river didn't give Eastgate a heart, ace or four and his main event run is over. Dan Harrington, Jerry Yang, Huck Seed and Johnny Chan remain the only main event former champions in contention.
A number of other notables were also eliminated during the first two hours of play, including Barry Greenstein, former November Niners John Racener and Jeff Shulman, and Sammy Farha.
One to keep an eye on is Joseph Cheong, who is back among the leaders here on Day 3. Cheong finished third in the main event in 2010, 114th in 2011 and is poised to cash for a third consecutive year with 335,000 in chips after Level 11. During the preliminary bracelet events, Cheong finished second, ninth and 15th for more than $375,000 in earnings. Cheong eliminated Greenstein during the past level.
Day 2A chip leader Gaelle Baumann leads the final 1,494 players remaining in the field. The blinds are now 1,000/2,000 with a 300 ante.
The top 10:
1. Gaelle Baumann (563,000)
2. Mark Demirdjian (555,000)
3. Jason Somerville (527,000)
4. Nghi Van Tran (520,000)
5. Jonathan Fountain (466,000)
6. Shaun Deeb (465,000)
7. Gerardo Lubas (449,500)
8. Jeremy Allen (444,000)
9. Michael Hack (438,000)
10. Michael Nasserazad (435,000)

A few other counts from around the room:
• Daniel Negreanu - 249,400
• Eugene Katchalov - 330,900
• John Juanda - 53,000
• Ben Lamb - 205,600
• Johnny Chan - 125,000
• Sorel Mizzi - 350,000
• Gavin Smith - 279,100

Small blinds: Ben Lamb, Vanessa Selbst and Tom Franklin are sharing one of the feature tables today. … Bernard Lee is sitting next to Johnny Chan. … John Juanda, Vivek Rajkumar and Alex Outhred are sharing a secondary feature table. … Daniel Negreanu is at the feature table. … Roberto Luongo isn't the only athlete still left in the field. Former MLB pitcher Mike Meyers made Day 3 and said that he's faced Barry Bonds 40 times, so this isn't pressure. … Here's today's WSOP chat wrap. … There are no more tables in Pavilion.