Lots of coaching carousel business topping this week's mailbag.
Q: From @coachbronk Living in Austin, Texas -- The sentiment here is almost like a nuclear bomb went off. Is [Will] Muschamp leaving that a big a deal nationally?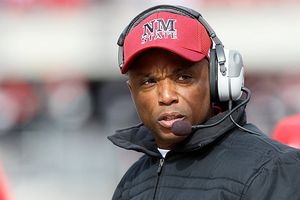 Getty ImagesDeWayne Walker could be a good fit at Texas.
A: It was a big story because you not only had the UT "Coach-in-waiting" bailing from Austin around the same time as Mack Brown made massive offensive staff changes after a 5-7 season, you had Muschamp taking a huge job at Florida, replacing a guy who won two BCS titles. On top of that, it was surprising, given that UF apparently bypassed former Urban Meyer assistant Dan Mullen, who has had two solid seasons as a head coach at Mississippi State for a first-time head coach.
As for possible replacement options for UT, one of the most intriguing names I've heard is DeWayne Walker, the New Mexico State head coach. Usually, guys with head coaching jobs at the FBS level don't give them up for coordinator gigs, but the circumstances here are pretty unique.
Walker, who just finished his second season with the Aggies, going 2-10, is a well-respected defensive mind. But he's in a brutal spot and jousting with the administration there over resources is going to be a constant battle and one that I suspect he will never win. Texas is a plum job. Brown, I'm told, is one of the best bosses to work for, and no one has more resources at his disposal than a UT coach. I doubt this deal happens, but it wouldn't surprise me if it did. I've heard for the right offer, Walker would go.
Q: From @JFlantastic -- Since Vandy was obviously not what he wanted, any thoughts on where [Gus] Malzahn might be a good fit?
A: He's going to be choosey, as we've seen with the Vandy opening. I've been told by someone close to Malzahn that he understands if he's going to take a head coaching job he has to be confident it's a place where he can win. Vandy evidently wasn't the right spot.
The risk is his name is really hot now with Auburn playing for a BCS title and his role coaching the Heisman Trophy winner. Malzahn's done a fantastic job with that offense. The 2011 season figures to be even more challenging, considering the Tigers lose four of their top five offensive linemen and there's a realistic shot that Cam Newton leaves for the NFL. Still, he's going to be well-compensated at Auburn.
Right now, it's hard to say with much certainty what is likely to come open next year. If Houston Nutt has another disappointing season at Ole Miss, that may be an option. Otherwise, there are jobs that I doubt Malzahn would be tempted by: Tulane, UAB and New Mexico. There are a couple of tenuous spots in the Pac-10, most notably UCLA and Washington State, where those coaches need much better results.
Q: From @lambdinj -- What sort of impact can Tennessee make next year with a much softer schedule and a more experienced team?
A: I'd think it would have a chance to win eight games in the regular season, given the schedule easing up and the maturation of QB Tyler Bray and the O-line. Two of the Vols best receivers were seniors this season, but they have a lot of promising young wideouts, led by freshman Justin Hunter. Linebacker Nick Reveiz will be missed. He was the heart and soul of the defense and a real leader. Defensive end Chris Walker is another tough guy to replace on defense, but there is some good young talent there, especially in sophomore DB Janzen Jackson.
As for the schedule, they have trips to Arkansas, UF and Bama and all will be very tough. Georgia and South Carolina, which both should be better, have to come to UT. LSU visits Knoxville, too. Tennessee be favored in all four nonconference games with Montana, Cincy, Middle Tennessee State and Buffalo all coming to UT. If the Vols can win at UF, they figure to be 4-0 by the time UGA comes to town.
Q: From @Mr_C_Squared -- Do you think [Bobby] Petrino's new extension make the Hogs a perennial national championship contender in the years to come?
A: Yes, he has elevated that program and it is going to be scary for as long as he's coaching there. Obviously, if Ryan Mallett jumps to the NFL -- given that the Hogs also have some good seniors on the O-line and standout TE D.J. Williams also being a senior -- it would mean significant retooling. But Petrino's track record for developing QBs and offenses is superb and the defense returns most of its key players.
Q: From @joefavia -- Rough draft what teams look good out of the [Big Ten] Legends division next season? I say Neb. than NU and Iowa.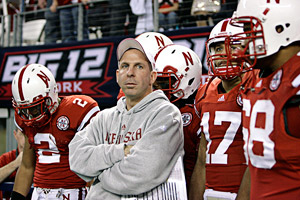 Brett Davis/US PresswireThe Big Ten slate sets up well for Bo Pelini.
A: Things set up well for Bo Pelini's debut season in the league, no doubt. Iowa not only has to replace its outstanding QB Ricky Stanzi, but also loses 75 percent of its terrific D-line, some really good receivers and a couple of O-linemen. I think that's too much to overcome.
But don't write off Michigan State. Kirk Cousins should be back. The Spartans have some big-time young RBs. The bad news: Stud LB Greg Jones is gone, as are four other senior starters from the defense.
Michigan is the wildcard in this division. If Rich Rodriguez gets a fourth season and there is no major scheme/system overhaul, the Wolverines will be dangerous. Denard Robinson and all of the skill guys return. Most of his O-line will be back, too. The defense, which was dreadful this season, returns its key player in nose tackle Mike Martin and gets corner Troy Woolfolk back from injury. All of the young players who looked overwhelmed this fall figure to be better with more seasoning. I suspect there will be a new defensive coach, whether Rodriguez returns in Ann Arbor or not. Regardless, the personnel will be better in 2011.
Q: From @Drofdarb23 -- Why do fans from "AQ Confs" continually rip Boise State but when their school has a coaching vacancy they want Chris Petersen?
A: Crazy how that works, isn't it?
Q: From @osceolafan2 -- Why is Al Golden seen as a good hire when he never beat a winning MAC team and teams he beat are 100-216?
A: Obviously, no one knows for sure if any of these coaching hires will prove to be booms or busts. Like I wrote Monday, it's all very much a crapshoot. That said, Temple was one of the most dismal football programs in all of the FBS when Golden took over. No one had won there. The academics of the football program were a mess. The attitude was horrible. The magnitude of all of those factors can't be so easily dismissed. Overhauling all of that is not easy. He got them to a bowl game for the first time in 30 years. They've won 17 games in the last two seasons. He also did beat Navy and a UConn team that is going to a BCS bowl -- and he beat the Huskies by two TDs. So, it's not like his teams didn't beat any good teams. It also should be noted that if you coach at a mid-major and have a good record, chances are you probably beat a lot of bad teams and didn't beat many winning teams.
Meyer did a terrific job at Bowling Green, going 17-6 in his two seasons before leaving for Utah, but of those 17 wins two came against programs with winning records. In his second season at BGSU, his team went 9-3 without beating anyone that had a winning record. Pitt just hired Mike Haywood, who spent two seasons in the MAC. He also only beat two teams with winning records. Brady Hoke, whose coaching stock is high these days, spent six seasons at Ball State. In the two seasons before he left for San Diego State, he was 19-7. He beat four teams with winning records.
Obviously, it's vital to beat the teams you should beat.
The biggest question mark to me with Golden is that most of his coaching and recruiting has all been done in the Northeast. Developing ties in South Florida is going to be a challenge. I know he has already brought in five of his former staffers from Temple. That's not surprising considering coaches like to surround themselves with guys they trust and who know how a coach likes things run. I am curious to see the other hires he makes.
A: From @pt2479 -- Since [Dana] Holgorsen left does Okie State become a doormat in the Big 12 or can they build on this year?
A: I think the Cowboys can build off it and still have a big 2011. They should be loaded offensively next year, even losing RB Kendall Hunter. The O-line is all back as are all of the other key skill guys. Also, I've heard there are some talented young backs behind Hunter.
Speaking of Dana, the new WVU coach and his pal Houston coach Kevin Sumlin appeared on 1560 The Game radio and produced some very entertaining and insightful stuff.
Holgorsen on Oklahoma State QB Brandon Weeden's development this season: "He was really lethargic and slow-twitch and all that. He was extremely lethargic. He really was. He viewed the whole quarterback pocket as a pitcher's mound, which is a problem. You sit there and take your time in the pocket and you get sacked. We got him vivacious."
Holgorsen is going to be interesting to watch in the next few years at WVU.
Around college football
• Big Ten commish Jim Delany on Thursday acknowledged the negative reaction to the new conference names in an interview with WGN Radio in Chicago. The commissioner also for the first time acknowledged the possibility of re-evaluating the names and changing them in the near future, as Adam Rittenberg points out:
"We've had enough experience with names and expansion and development of divisions that we know that you rarely get a 90 percent approval rating," Delany told WGN AM-720. "But to get a 90 percent non-approval rating was really surprising. It showed that we didn't connect with our fans in a way that we wanted to. It's humbling, to say the least, because we're trying to build fan bases, not push them away. "I've been around this business a long time, and I would say it's one of the more surprising things. There's a sensibility there that we did not connect with, did not read well."
My three cents: I'm glad to hear they're re-thinking this. It was ridiculous and, worst of all, confusing. The curious part of Delany's sound byte was him making it sound like there were 10 percent of the people who liked the names. Really? Ten percent? I couldn't think of anyone who liked it aside from a snickering Spencer Hall, Mike Slive and Paul Finebaum.
• Turmoil or not, Michigan just landed a commitment from the country's No. 14 CB prospect, Blake Countess.
• Former five-star recruit Jonathan Dowling, who had signed with Florida last winter but fell out of favor with Meyer's staff, has committed to W. Kentucky after making a visit to campus, the Bradenton Herald reports:
"I committed to Western Kentucky because it is a comfortable setup there. It feels good, " he said. "I am ready to move forward with my life. It feels good that coach [Willie] Taggart and coach [Ray] Woodie are from Manatee County, but I really like the setup there."
Western Kentucky is expected to give Dowling a chance to play offensive and defense. Additionally, he'll attempt to gain a waiver from the NCAA to play next season.
• JC OT Aaron Douglas' signing with Alabama won't be a popular decision with Tennessee fans, writes colleague Chris Low:
He was the Vols' most promising offensive lineman when Derek Dooley took over for Lane Kiffin following the 2009 season. What's more, he was a Tennessee legacy. Both of his parents were former Tennessee athletes. His father, David, was an offensive lineman on the Vols' 1985 SEC championship team and later played in the NFL. His mother, Karla Horton Douglas, was the starting center on the Lady Vols' 1987 national championship basketball team. Douglas, despite coming to Tennessee as a tight end, played well as a freshman, but was never really happy. He was also battling depression and asked Dooley for a release, saying he wanted to get away.

Dooley, saying Douglas never gave him a chance, would only grant Douglas a release if he would agree to go somewhere that was at least eight hours away from Knoxville. As part of his request for a release, Douglas told Dooley he wouldn't transfer to any other SEC school, any school in the state of Tennessee or any school on the Vols' schedule for the duration of his career. Still, Dooley balked. So Douglas decided to go the junior college route, which freed him up to go anywhere he wanted after a year.

And here he is at Alabama.
• According to the Daily Camera, Kenneth Farrow, the nation's No. 108 ranked RB, has seen his Class of 2011 offer withdrawn by new Colorado head coach Jon Embree. "I don't think it's fair to pull a kid's scholarship, especially after they've committed to you, especially with it being this late," Farrow told the Daily Camera.
• This isn't college football related, but if you're as aspiring writer or just a fan of great magazine writing check out this piece about Chris Jones, who is as good as there is in the magazine world. He's worked for ESPN The Magazine in addition to his contributions at a variety of other publications over the years.
Jones has written dozens of powerful stories. If you are unfamiliar with his work, read this.
• You don't have to be an MMA fan to be wowed by Anthony Pettis' amazing off-the-cage kick from WEC.
• Tweet of the Day: From WKU coach Wilie Taggart:
"Great news for WKU Football: Everybody wants to be a Hilltopper! You cannot stop the momentum you can only hope to contain it."