Baseball is awesome. Did we need to say anything else? Do we need to hire Terry Cashman to write a ballad about this day? Do we need to pen epic poems about Chipper Jones and Jered Weaver and Bryce Harper and the intentional walk?

Man, I need to catch my breath.

How do you sum up the wildest game of the season so far? I guess pretty simply: The Phillies, a team that scores runs with about the same frequency of a Serie A soccer team, totaled 13 runs ... in a game Roy Halladay started ... and lost.


The Phillies led 6-0, the Braves scored six off Halladay in the fifth (including a
Brian McCann
grand slam) and then took an 8-6 lead (the first time he's allowed eight runs in a game since Aug. 24, 2009). The Phillies surged back ahead 12-8, the Braves took a 13-12 lead with five runs in the bottom of the eighth (as Phillies closer
Jonathan Papelbon
apparently isn't allowed to pitch more than one inning or three days in a row), the Phillies tied in the ninth on
Shane Victorino
's two-out infield single, and then ...
Well, then, Larry Wayne Jones stepped to the plate in the bottom of the 11th inning. He hammered a 2-2 slider from
Brian Sanches
down the right-field line, but it hooked a few feet line. I tweeted, "Dang, a Chipper walk-off would have been pretty cool on this wild day."
Two pitches later, he crushed a 3-2, 88-mph meatball over the center-field fence, watching the ball fly away into the Atlanta evening and flipping his bat in a dismissive swagger. "I may be 40 years old with creaky knees, but don't try and slip that mediocre slop by me," he seemed to say.
Braves 15, Phillies 13.
It was the 458th regular-season home run in his career. Few have felt sweeter, especially since the Braves had lost eight straight games to the Phillies.
"I wish everyone could experience that feeling right there," Jones said on postgame on-field TV interview, trying to catch
his
breath after enduring the mosh pit at home plate. "That game, without a doubt, takes the cake as far as my career goes. You figure with Halladay and [Tommy] Hanson, it's going to be a 2-1 game."
When Jones says he's never seen a game like it, you know what it was something amazing.
And here are a few more adventures from not just another Wednesday in early May:
Oh, yeah, as I was finishing this piece, Jered Weaver was flirting with a no-hitter through the sixth … seventh … into the eighth … and he did it. You know, Weaver is pretty good at baseball. The highlight: MLB Network cameras showed Weaver leaving the dugout in the eighth inning to use the bathroom. How do you risk a no-hitter by leaving the bench? As he said after the game, "I had to pee so bad."
In an afternoon tilt at Coors Field, we saw the worst call of the season (Jerry Hairston Jr. was called out on this play) and Carlos Gonzalez homered twice off Clayton Kershaw (only the second time Kershaw has allowed two home runs to one player in a game, Adam Dunn having done so in 2010). But that stuff was merely a prelude to a wacky ninth inning. With two outs and a runner on first, Jim Tracy elected to intentionally walk Matt Kemp to pitch to Dee Gordon. You can debate the merits of the decision -- Kemp's home run rate was three times that of Gordon's extra-base hit rate, and extreme fly ball pitcher Rafael Betancourt was on the mound -- but Gordon hit a soft liner into right-center. Third-base coach Tim Wallach sent Kemp, who should have been thrown out by 10 feet, but Troy Tulowitzki biffed the relay with a wormburner throw home. Game tied and Tracy looked like the goat until the ancient Jason Giambi hit a three-run homer off Scott Elbert in the bottom of the ninth. How awesome is that the Giambino is still swatting game-winning home runs at age 41?
The Nationals ended a five-game losing streak in dramatic, walk-off fashion as well. Wunderkind Harper -- who had just missed his first major league homer earlier in the game with a double off the top of the wall in right-center -- led off the bottom of the ninth with another double to center, his third hit of the game. With Nationals fans dreaming delirious dreams of Harper's future, J.J. Putz then struck out Wilson Ramos and Rick Ankiel. But Ian Desmond blasted a 1-1, 93-mph fastball over the fence in left-center. Only one of the best wins in Nationals' history.
The Royals looked like they were going to beat Justin Verlander, leading 2-0 in the eighth, only to have Brennan Boesch tie the game with a two-run homer. So they settled for a victory off Joaquin Benoit in the ninth, the go-ahead run scoring on Chris Getz's two-out infield single.
Jake Arrieta threw eight shutout innings against the Yankees in one of the best outings of the year for a pitcher: 8 IP, 5 H, 0 R, 0 BB 9 SO. The Orioles took two of three in the series, they're 16-9, and Baltimore fans are starting to believe.
Jeff Suppan made his first major league start since 2010 and tossed five shutout innings as the Padres blanked the Brewers 5-0.
Johnny Damon played his first game for the Indians, and while he went 0-for-3 with a walk, having Damon back in the bigs is certainly worthy of a round of applause.
Carlos Beltran had seven RBIs through three innings and for a time we could conjure up scenarios where he would drive in 10 ... 11 ... maybe even a record-tying 12 runs.
Lost in the excitement of Chipper's dramatic walk-off homer, Phillies catcher Carlos Ruiz also had seven RBIs.
One day in baseball. I say we do it again.
Follow David Schoenfield on Twitter @dschoenfield.
PHOTO OF THE DAY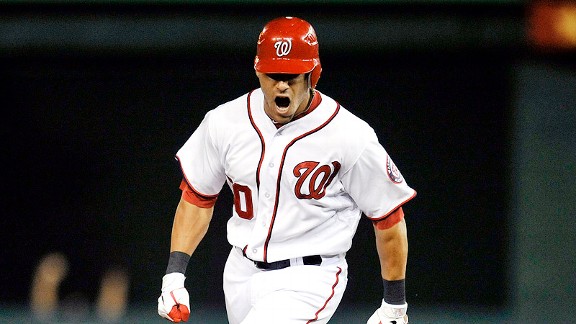 Joy R. Absalon/US Presswire