PITTSBURGH -- Free safety Ryan Clark probably won't return for another season with the Pittsburgh Steelers, but he made clear that there shouldn't be a question about defensive coordinator Dick LeBeau's future with the team.

LeBeau, 76, has said he wants to return in 2014, and all signs point to that happening -- even if coach Mike Tomlin did not commit to retaining either coordinator this week.

"He's still sharp, he's able to make the calls and create the defense we need each and every week," Clark said. "So when you have him like that, when you have the experience that he's had, why would you kick him out of football? Why would you not want him in the building? So I think if he wants to come back, he will."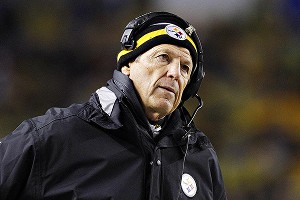 Justin K. Aller/Getty Images
The Steelers led the NFL in total defense in 2011 and 2012, but slipped to No. 13 this season.
There were plenty of reasons for that decline. LeBeau slowing down because of age is not among them.
He could easily pass for someone who is 20 years younger and, as Clark observed, "He's just the same coach LeBeau. Does his push-ups, does his jogs, runs around the field, excited about work every morning. He's still sharp."
It's hard to put into words the respect and love LeBeau commands from his players, and I'm talking every one of them.
Does that mean he should be allowed to coach as long as he wants? No.
But I think LeBeau and the Steelers will both know when it's time for him to go -- and presumably turn over his coordinator duties to linebackers coach Keith Butler.
The Steelers don't need a new coordinator to again become one of the top defenses in the NFL. They need a couple of more playmakers, an infusion of youth in the secondary, and maybe a prototypical nose tackle to help shore up the run defense. LeBeau, and I cannot state this strongly enough, is part of the solution, not the problem.
"I know he's still very capable," Clark said of LeBeau, "so I'm sure if he wants to come back there's nobody that's going to lock him out of this building."
Clark, one of 21 Steelers who will become unrestricted free agents in March, is facing that very real possibility.
He is well aware that he is on the wrong side of 30 and that the Steelers parted ways with franchise cornerstones Hines Ward, James Farrior,
James Harrison
, Aaron Smith and Casey Hampton the previous two years.
"I understand how the process works," said the 32-year-old Clark, who just completed his 12
th
NFL season. "I also know just recently how it's worked for guys over 10 years, guys over 30, so I understand it could be a slow process."
Clark has said the he intends to play next season, even if it is not with the Steelers.
"It's been an awesome experience, either way it goes," he said of his time with the Steelers. "I'm excited to see what happens next."