Hall of Fame defenseman Brian Leetch was named the captain of the New York Rangers after the departure of legendary teammate and long-standing team leader Mark Messier in 1997.

Leetch remembers how it felt when people started calling him captain, the recognition that came with wearing the 'C' of an Original Six team and the responsibility that came with representing such a proud franchise.

"When you talk about Original Six teams, a big market and a passionate fan base, that adds to the focal point. It is a special thing," Leetch told ESPN.com in a recent telephone conversation. "When Mark left and I was named captain, I was proud of that. I was disappointed why [it happened] -- with Mark not being re-signed -- but I was very proud to wear the Rangers jersey and wear the 'C.'

"It probably means something in every franchise, but when you see a Montreal Canadiens jersey, a Toronto Maple Leafs jersey, a Chicago Blackhawks jersey," Leetch said, rattling off fellow Original Six teams, "it certainly carries a certain weight."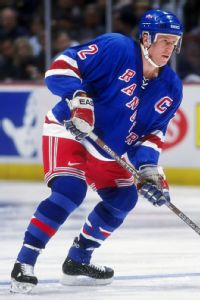 Elsa Hasch /Getty Images
The Rangers have not yet named a captain for the 2014-15 season. A leadership group emerged to take the reins after former captain
Ryan Callahan
was traded to the
Tampa Bay Lightning
at the deadline in March, but no player has officially accepted the baton. Still, the odds-on favorite to succeed Callahan in that role is 25-year-old defenseman
Ryan McDonagh
.
McDonagh, a smooth-skating, offensively skilled and physical young blueliner, would be a fine choice for the Blueshirts, according to Leetch, who helped lead the Rangers to a Stanley Cup championship in 1994 and won the Conn Smythe Trophy as playoff MVP that season. Leetch thinks McDonagh will have tremendous support from his teammates.
"That group of guys have been together [McDonagh,
Marc Staal
,
Dan Girardi
] so that leadership is a shared thing. The roles within the locker room have been established. If [McDonagh] is given the captaincy, it won't change his approach in how he interacts with his teammates," Leetch said. "I think it's a natural thing and I agree he seems to be a logical choice. He's a main guy for the foreseeable future."
The St. Paul, Minnesota, native took a huge leap this past season to the point where his name entered the Norris Trophy conversation. Leetch, a two-time Norris Trophy winner, has enjoyed watching McDonagh's game evolve.
"It's fun to see a player gain that confidence and take that next step, and that is certainly what he did," Leetch said. "The coaching staff deserves credit, too. You need that confidence from the coaches, your teammates, to be given that kind of responsibility as well as the opportunity to make mistakes."
Although McDonagh has ascended to the top-pair shutdown role with Girardi for his stout defensive ability, his offensive potential was nurtured and encouraged, Leetch said.
"A lot of times you need to be reminded of that. He wanted to be as good as possible defensively, and his skating allowed him to do that, to shut down other players, but you saw that ability to make the tape-to-tape passes and skate the puck out of the zone," said Leetch, who holds the Rangers' franchise scoring record among defensemen. "He's got more and you really need that push every day from coaches and teammates. I saw that happen throughout the year."
The Rangers' sturdy back end was a huge component in their playoff success this past spring, when they made a run to the Stanley Cup finals against the
Los Angeles Kings
.
Anton Stralman
signed with Tampa Bay in free agency, but Leetch would like to see much of that defensive corps remain intact.
Priority No. 1, of course, is signing Staal to a new extension. (His agent, Paul Krepelka, told ESPN.com via email, "all quiet on that front right now.") Although Staal has been hampered by a string of serious injuries in recent years, he returned to form with a strong performance in the 2014 playoffs.
"I think it's really important to have that group of guys back there. I add Girardi in the mix as well, just the stability and familiarity, and the personalities. They're very good teammates in locker room, good people, and they have that continuity, plus the ability to perform on the ice in front of
Henrik Lundqvist
," Leetch said.
"My fingers are always crossed that Marc can stay healthy because he's on the verge of getting to that next level. Obviously, that's my hope for him, and I think he's an elite player with the ability to be a top D in the league if he can continue to play and get those reps."
As for Leetch's future, he's not quite sure of what lies ahead. Since he left the NHL's Department of Player Safety earlier this month, Leetch's most pressing plans have been the deep-sea fishing expeditions he's taken this summer (shut out only once, he adds).
And although he enjoyed the gig with the league's disciplinary arm, he's looking forward to spending more time with his family.
"Those West Coast teams were too much for me," Leetch joked of the long hours spent watching NHL games each night. "I didn't mind the rest of it. In fact, it was very interesting, and I really liked the responsibility, but the hours away from the family [was tough]," Leetch said.
"I'll do some TV work again with MSG [Network] and I'm talking about doing some other things, but nothing is set in stone."