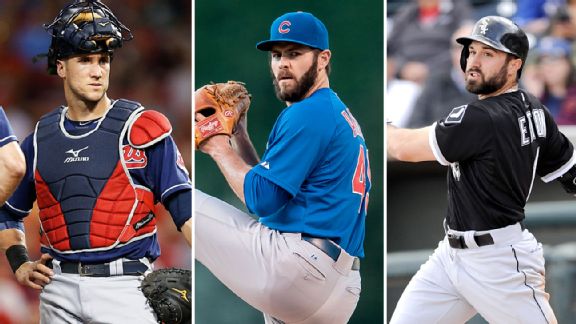 Getty Images
For these breakthroughs, I considered:
• Players who were no longer rookies to start 2014.
• Players who either established a substantially higher level of performance, or who established themselves as everyday players/mid-rotation starters when they were previously part-time or extra players.
While many other players had apparent breakouts this year (e.g.,
Josh Harrison
), these 10 players all have had breakouts that I believe are sustainable into future seasons. I picked five starters and five position players.
Pitchers
Garrett Richards

Unfortunately, Richards' season is over due to a freak knee injury that might put him out of action into spring training of 2015, which hurts the Angels' chances of advancing in the postseason and overshadows what an amazing year he's had. Richards was throwing mostly four-seamers and sliders before this season, which made him vulnerable to left-handed batters and generally to hard contact when he left the fastball up. This year, he added a two-seamer, with more life than the four-seamer (which has some natural cut) and a different look, while also adding a curveball to complement the slider, a pitch with similar shape but lower velocity. Assuming his knee allows it, he'll return to ace status next year.
---
Jake Arrieta

Arrieta had good stuff with Baltimore, especially in short looks, but had below-average command dating back to his time in college and on the national team, where I first saw him in the summer of 2006. The Cubs have made a practice of going after guys like this to try to unlock some of that hidden value, such as the waiver claim/trade for Jacob Turner earlier this month, and Arrieta is the model. Pitching coach Chris Bosio got Arrieta to take the same kind of controlled, deliberate delivery he'd show in side sessions into games. He's more consistent from start to finish now, with less physical effort (virtually eliminating the head whack he used to have) and more mental composure, too. He's better able to command the fastball, especially in working to the lower corners of the strike zone. He looks like a top-of-the-rotation starter now and has all the physical attributes to maintain it going forward.


---