On the afternoon of our League Cup trip to Sheffield Wednesday I was halfway through a light-hearted look at some peripheral stories among our rivals. By the end of the night no Fulham fan felt in the mood for laughter.

Spurs clinch Dembele signing

A turbulent 24 hours for our club indeed, and Lord knows how many times I've re-started this missive on the current state of play. After weeks of inaction and wild rumours, Fulham entered the new season at home in the same rich vein of form they signed off with.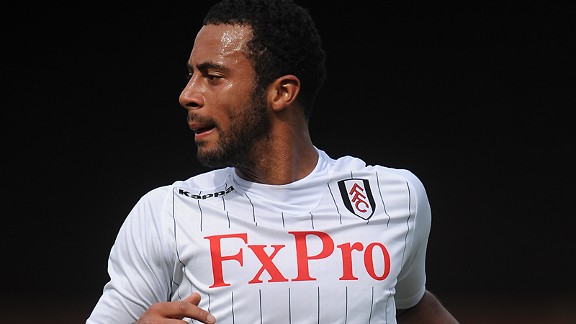 Dembele swaps Fulham for Spurs

© PA Photos
A week later we are taking the biggest outfit in Europe to the wire and all seems well set for a season of progress and flair football that on the evidence of results across the board after one week suggested we had every chance of pushing on up towards the top four. Yes even without our star man and top scorer from the previous two seasons.
The momentum that might have been sustained on the back of our run to Hamburg had Roy not been spirited away now seemed attainable in Jol's second season. The starting XI against Norwich looked solid in every department. The club had planning permission for a new stand by the river that would see capacity increase to 30,000 and Jol was supposedly sitting on a war chest should reinforcements be needed in the current window. We looked back at the highlights from Old Trafford, reflected on our standing in the league, and looked forward with confidence to three winnable league games to come over the next month.
In all of this, and I too got bitten by the mood of optimism, we perhaps lost sight of the fact that we are still Fulham - and bad karma has a habit of sneaking up over the river like morning mist in November. Cue another appalling performance on the road at Hillsborough. Quite inexplicable, the more so when you see the strong team fielded and the statistics that reveal how totally punchless and sterile we were in attack, clueless in midfield, clumsy at the back. Only Mark Schwarzer apparently played anything close to type. How did this happen with the big names we had out there? No clue on the final whistle as Jol did not face the press.
But then, as we were to know within an hour of the final whistle, the boss had other things on his mind. Only in Wednesday's
Standard
does Jol admit to having been speechless after our 1-0 loss to the Championship new boys. Barely had Fulham posters had time to shrug and point out, "well, let's get back to winning where it matters, at West Ham," than the bombshell dropped. Twitter went into overdrive as a blizzard of tweets revealed Dembele was on his way out of the club.
The news flow over who is leaving and who might be arriving has continued throughout the day. Dembele was rumoured to be having a medical at Man City, that United might try to trump the Spurs bid... by the hour the stories rolled on.
By mid-afternoon I started to try and get a handle on things. An old sweat in the newsrooms of old when the wires started humming, and copy was being rushed up, then re-written, would sometimes shout for calm and a cooling off period for everyone to appraise the situation. Taking that course, I have come back from the deep gloom of seeing my club yet again sell off their best players, to consider what may be happening at boardroom level. And hoping there is a strategy that does not see the club's season sour this early. One thing is now certain. The sale of Modric has, as I feared, set up a chain reaction to spark some serious trading, and the Fulham team for our home game with WBA may look quite different from what we saw on day one.
Kieran Richardson in a white shirt for starters. Not a signing that seems to set Fulham hearts racing. He's not someone I would have put on my own list, but he can be a useful squad member (the new Simon Davies if you will) and play two positions. He is a full England international remember and at £2 million he's not too much of a risk. Now it's a question how we spend the rest of that £15 million from the Spuds on reinforcing the side. Sadly, whenever the likes of Kasami, Briggs, Sidwell et al get a chance they never seem to take it. Jol's already had one round of spending to replace his midfield a year ago and got it wrong. Now he's got another chance. Could it be Adam or Noble? We certainly need an extra striker. We've bid for Gomis and may well go back with another offer for Rhodes.
Whatever the strategy, we really must believe that Jol and the CEO sat down over the summer and drew up a scenario for every position to be covered. If Dembele has simply triggered the escape clause in his contract, which Fulham themselves set at £15 million, then his move across town should have been anticipated. No blame to the player for taking up his option, while we have made a tidy £10 million profit on his time at the club. That's good business by any standards.
The acid test of course, and crucial for soothing our nerves, will be how that money is reinvested in fresh blood before Saturday. Jol must have a list of targets on his desk. I agree totally with his stance that operating the transfer window two weeks into the season is sheer madness, leading only to panic and inflated prices. We're in the same boat as everyone else however. The floor of the Coliseum is a bloody place and it's survival of the fittest. Top four clubs come waving the chequebook at our big names. It's the price you pay for achievement. Now we have to do the same. To keep the supporters on side. To reward the chairman's ambition. To maintain our status as a top Premier League club, and to keep faith with Jol's vision for playing good attractive football at the Cottage.
Get that right by the weekend Martin and we'll quickly draw a line under Tuesday night's loss. A big few days coming up that will dictate our season. There, I'm done - and I haven't even mentioned Clint once. COYW!!! Keep the faith people.
• Twitter@fulhamphil