While so many eyes are on the rookie running backs and their week-to-week August progression, it's worth noting that the preseason is pretty much over for most of the relevant fantasy options. After all, the fourth week of the preseason will feature many names that won't even make NFL teams. While there are a scant few rookie running backs I have my eye on -- with the Green Bay Packers' Eddie Lacy at the top -- I'll generally let others overdraft them. Instead, I've been watching more closely how the young veteran running backs with limited experience have done recently, and in the case of the New Orleans Saints' Mark Ingram, the New York Giants' David Wilson and the Miami Dolphins' Lamar Miller, it's been mainly positive.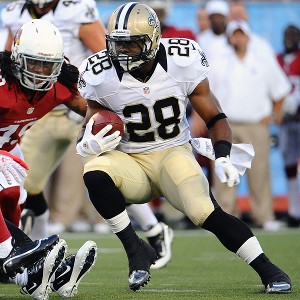 Tim Fuller/US Presswire
In the case of Ingram, it's universally recognized that
Darren Sproles
is the first Saints running back off the draft board -- and he should be -- but I'm starting to buy into Ingram becoming a possible weekly flex option in standard formats, if the Saints use him properly. Sure, there are red flags galore from Ingram's first two disappointing seasons in terms of health and performance, but he's 23. It's not too late for him to emerge in an elite offense if healthy, and the performance has been there the past two weeks. The former Heisman Trophy winner seemed to lack quickness and burst his first two seasons, but late last season the Saints leaned more on Ingram, giving him many more carries than usual -- an average of 15 per game the final four weeks -- and he performed fairly well, with two of his four double-digit fantasy games. He broke some bigger carries in that stretch as well. Frankly, Ingram's season numbers don't tell the story. He closed well.
On Sunday against the Houston Texans I saw some of the best and worst of Ingram as well: the fellow who is capable of finding a hole and sprinting through it, but also the guy who looks tentative at times when the blocking isn't there, which can be a problem on the Saints. Ingram broke off a 23-yard rush, and he later took a short pass for 29 yards. That accounts for 52 of his 54 total yards for the day, so he didn't do much on the other four touches, but focus on the upside. The Saints aren't tired of him. With a healthy Ingram, they could establish a running game, and while they throw so much at the goal line while he's frustrated on the sideline, even in somewhat limited use Ingram has five rushing touchdowns in each of his first two seasons. It's no stretch to visualize 800 rushing yards and eight scores, at least. Sure, Drew Brees throws a ton, Sproles is the pass-catcher and Pierre Thomas will see third-down work, but let's not diminish a healthy Ingram from being valuable.