The way you feel about the Dallas Cowboys' 2013 draft seems to depend on the way you feel about how they handled the first round. Ashley Fox, feels they bungled it badly, and theorizes that they did so because Jerry Jones was distracted by his attendance at the opening of the George W. Bush Presidential Library earlier in the day.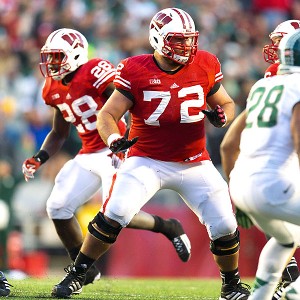 Jeff Hanisch/USA TODAY Sports
Now, I understand that Jerry excels at making himself an easy target. And I like Ashley's work. But on this point, I couldn't disagree with her more strongly. The way the Cowboys handled the first round has all the hallmarks of a coherent plan. A distracted decision-maker would have stayed put and taken the highest player on the board at No. 18, even if he didn't think that player was worth such a high pick. What the Cowboys did made sense on a number of levels.
First of all, they trade down with the 49ers, getting the 31st pick of the first round and the 12th pick of the third in exchange for that No. 18 pick. The biggest criticism we've heard is that they should have been able to get more from the 49ers, but different draft-value charts say different things on that and it takes two sides to make a deal. If they didn't have a player they liked at 18 and they saw a chance to get two that they did, then there's nothing wrong with taking that deal.
The player they ended up taking at 31, Wisconsin center
Travis Frederick
, projects as both an immediate and long-term starter for the Cowboys at either center or one of the guard spots. The second criticism is that they reached for him -- that they could have had him in the second or maybe even the third round. But (a) no one knows that for sure and (b) the 31st pick is practically the second round anyway. It's not as though they took Frederick 10th overall (or even 18th, for that matter). The Cowboys absolutely, 100 percent, more than any team needed anything in this entire draft, needed to come out of the first round with a new starter on the offensive line. They did. And they got an extra third-round pick out of the deal and used it on Baylor wide receiver
Terrance Williams
, a new vertical threat for
Tony Romo
in the passing game.
PODCAST
Cowboys second-round draft pick Gavin Escobar joins Fitzsimmons & Durrett to discuss his strengths as a tight end, the stress of the draft process and the thrill of working with Jason Witten and Tony Romo.

Listen

Along the way, they added second-round tight end
Gavin Escobar
, who also offers the opportunity to expand their options in the passing game and represents the successor to
Jason Witten
down the road. With their original third-rounder, they added physical safety
J.J. Wilcox
, who could push for a starting spot this year. In the fourth they added a cornerback,
B.W. Webb
, deepening a position at which there's no such thing as too many bodies. In the fifth they took a running back,
Joseph Randle
, who didn't miss a game in college, to back up the injury-prone
DeMarco Murray
. And in the sixth they took project linebacker
DeVonte Holloman
.
They filled needs at good value in rounds two through six, and their second and third picks of the draft will help them add layers to their offense, offering Romo more options from play to play and game to game as his receiving threats become more numerous and varied. If it weren't for the weird way the first round went down, people would be hailing this as a fine draft for the Cowboys. And frankly, too many people are overreacting too strongly to the way the first round went down.
PODCAST
Chuck Cooperstein, Matt Mosley and Glenn "Stretch" Smith discuss the Cowboys' draft picks and who was influencing Jerry Jones' decisions.

Listen

This was a lousy draft class, people. A bad year. Very little, if any, top-level talent, and if you're picking 18th that puts you in a tough spot. Considering that, and the fact that they needed to get an offensive lineman in the first round, I think the Cowboys acquitted themselves rather coolly. I certainly don't think the way they operated their first round indicates distraction or the lack of a plan. Quite the contrary, in fact.
Fans might be happier today had they gone offensive line again in the second or third round, or if they'd found a defensive tackle early. They could have stayed put at 18 and taken
Sharrif Floyd
, and perhaps that would have been hailed as a coup, since Floyd had been projected to go much earlier. But this is the part I never get. All we hear going into the draft is how useless all of these projections are, and then while the draft is going on everybody wants to use them to critique the picks. There was some good reason Floyd fell all the way to 23, and Dallas was hardly the only team to pass on him.
If Frederick never starts a game, or turns out to be a bust, then obviously it'll be easy to look back and say the Cowboys bungled this. But in a bad draft year, why not take the players you like instead of the ones the mock-drafters told you to like? I think the Cowboys got five players who could contribute right away, and Frederick could start on their line for the next eight years. I honestly don't see what's to rip.