CHICAGO -- Anthony Rizzo will be the Chicago Cubs' No. 3 hitter for the foreseeable future, manager Dale Sveum said Friday.

So while general manager Jed Hoyer said this week that Rizzo is expected to move around the lineup until he finds a comfort zone at one spot, Sveum has other plans.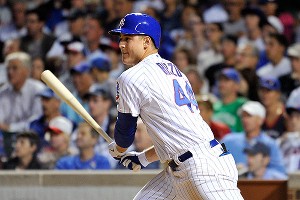 Brian Kersey/Getty Images
The lineup is ultimately Sveum's to make and his line of thinking is that sooner Rizzo can get a spot and settle into it the earlier he can establish himself at the big-league level. Rizzo won't even be moving when the
Houston Astros
send a left-hander to the mound on Saturday and Sunday.
"He's our third hitter," Sveum said. "I don't see me changing that in the future."
Rizzo's ability to hit for power and make consistent contact for a home-run hitter, not to mention his ability to be a situational hitter, makes him an obvious choice for the No. 3 hole.
"The jury is still out on whether he is the best hitter, but you want your best hitter there," Sveum said. "He's got power, he's grinding for the RBIs. When guys get out there he understands. You can see that he's mature enough that if it's second and third, he's mature enough to get them over and get them in."
All of it, except for the home run power, was on display in Rizzo's Cubs debut on Tuesday. In his first-at bat he singled, then moved runners to second and third with a ground ball during his second at-bat. He followed that with a double that brought home the eventual game-winning run.
As good as
Starlin Castro
is as a hitter, he was a fish out of water while trying to hold down the three spot earlier this season. He also appeared to be overanxious in the role as his low walk total showed.
"You want solid guys there who can do a lot of things," Sveum said. "Obviously home runs are nice, average is nice. But those key RBIs are the biggest of all to take the lead on the road or tie the game back up at home. There are a lot of key situations that come up for a third hitter than you can't keep missing out on for 162 games."