CHICAGO – The most surprised person in the building when Starlin Castro made an over-the-shoulder bare-hand stab at a bobbled popup wasn't the guy who was robbed, Alejandro De Aza.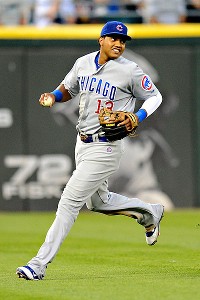 Mike DiNovo/US Presswire
The shock of the night rested with the person closest to the play.
"Unbelievable," Castro said. "I don't know how but I saw it coming and I flipped it to my other hand. Unbelievable. It happened quick. It was a nice play."
With one out in the fifth inning, De Aza flipped a ball into shallow left field. With his back to the plate, Castro caught up to the ball, but it bounded off the heel of his glove and as Castro swiped at it again the side of his glove appeared to flip the ball in the air.
Castro was able to stick his bare hand in the air first catching the ball on his wrist before it slid into his hand.
"Hopefully that was the No. 1 Web Gem tonight," manager Dale Sveum said. "That will be tough to beat, I think. That was pretty athletic to be able to snatch that out of the air.
It was a once-in-a-lifetime play, but Castro took the moment to joke that he practices it all the time.
"I see it every day," he said.
During a season that has been so demanding, the Cubs finally got their fair share of breaks, with the Castro catch only one of them.
"It was a nice for the day with the team winning," Castro said. "Everybody pulled together. There was great defense from everybody. You see us win a close game. The team has lost of one-run, two-run games, but the pitching did its job, the defense, everything."