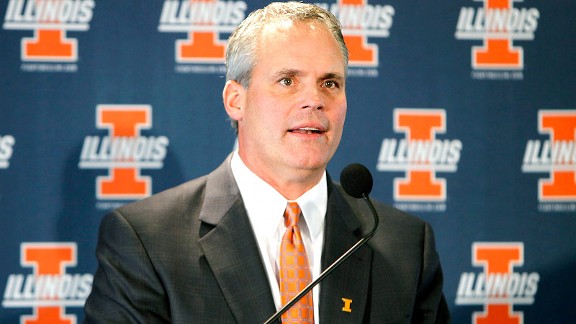 Courtesy Illinois Athletic Public Relations
Illinois coach Tim Beckman and his staff have been living the life of a touring rock band this week.
Beckman's group may even more ambitious than your average band. In four days, he's scheduled satellite camps in seven different cities throughout Illinois.
On Sunday night, he stayed at a hotel in Chicago. On Monday, he spent the morning at Lincoln-Way East in Frankfort, in the afternoon at Mount Carmel in Chicago and slept the night at a hotel in Schaumburg. On Tuesday, he was at Barrington in the morning, Boylan in Rockford in the evening and slept in Peoria. On Wednesday, he held a camp at East Peoria and then was on the move to the St. Louis area.
On Thursday, he will close his trip with a camp at Edwardsville in the morning, one at O'Fallon in the evening and finally return home to Champaign.
"That's how we've done it before," Beckman said by phone while on the road on Wednesday. "It's the coaching profession. You work and you work hard. You do the things to have success."
Beckman plans to make the satellite camps annual events, which he did at Toledo. With this being his first year at Illinois, the camps have helped him and his staff begin building relationships with high school coaches and players and also identify young talent.
"It enables you to get out, shake a lot of hands, meet a lot of kids, let people know about the orange and blue," Beckman said. "You think about we had less than 30 days in January to get out. That's huge. We're not able to get out in April and May. It's been great just to meet families, meet with prospects and meet the coaches."
Beckman may extend a few offers to rising seniors during the week, but he said the camps have been most useful to begin evaluating underclassmen.
"We know about the (seniors) already," Beckman said. "You've done your job for the last six months evaluating those future guys. The ones you get to see are the juniors and sophomores. You can see there's a 14-year-old kid who is 6-6 and 280 pounds. It's crazy how big kids are getting."
Beckman couldn't speak about specific recruits already committed to Illinois, but he did say he was pleased with the results so far. Illinois has 10 players, including four from in state, in its 2013 recruiting class.
"I think it speaks highly for our coaching staff," Beckman said. "Heck, we haven't even played a game yet. I'm proud of what we've done in our evaluations and what are coaches have done."